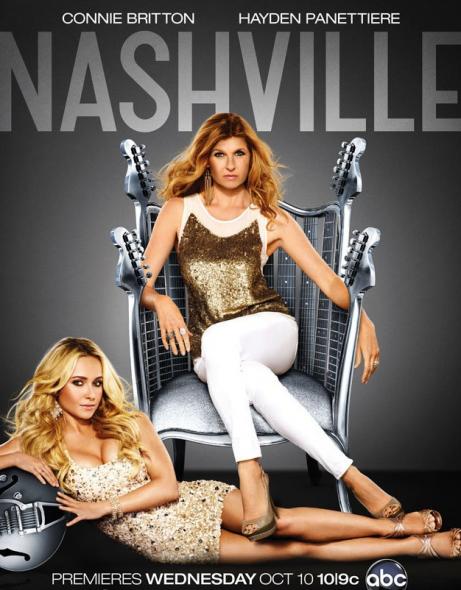 Nashville
(Wednesdays at 10:00 on ABC; Premieres October 10)
Now having seen the
Nashville
pilot, it's safe to say that it's the perfect successor to the timeslot reinvigorated last season by
Revenge
. It's similarly an overly dramatic soap opera centered around the rivalry between two strong, beautiful women, each possessing their own kind of power. It has all the trappings of a guilty pleasure, and I loved every moment of it.
Rayna James (Connie Britton,
Friday Night Lights, American Horror Story
) is the reigning queen of country music, an artist on top of her game for over two decades. But the country scene is changing, and Rayna just doesn't have the crossover appeal necessary to be a contemporary success: her latest album is failing, and her tour isn't selling. Her record company's solution? Send Rayna out on tour with Juliette Barnes (Hayden Panettiere,
Heroes
), the hottest thing in the country world. If Rayna declines, the label will pull all promotions of her album and turn their backs on her. It's a tough decision for Rayna, who also faces discord at home from her unhappy marriage and a broken relationship with her power-hungry father (Powers Boothe,
Deadwood
). When Juliette bursts on the scene and tries to steal Rayna's longtime lead guitarist (and ex-lover) as well as her producer, the stage is set for a showdown between the reigning queen and the rising princess of country music.
I can't say enough good things about
Nashville
. It's well-written by Oscar winner Callie Khouri (
Thelma & Louise
), full of witty banter and well-placed bits of backstory, without ever seeming campy. The rivalry between Rayna and Juliette could have easily devolved into
Dynasty
territory, but the strength of the writing and performances from Britton and Panettiere ensure that these girls feel real. Speaking of which, it is Connie Britton's performance as Rayna that truly sells the show. She plays all the contradictions and confusions of the aging star so perfectly, from her diva outbursts at sound check to scenes driving her kids to school in a minivan like any regular mom. Rayna is a simple woman for whom things got (or are getting complicated), and Britton plays up every second of that humanity without sacrificing that certain something that makes Rayna so magnetic to millions of music fans. Without Britton,
Nashville
would be a lesser show. She is supported amply by Panettiere, who is giving a delicious villain performance that isn't at all melodramatic. She is the ideal foil to Britton's groundedness, though she gets a hefty moment of her own late in the episode. As broken as Rayna's personal life seems, we get the sense that there's something much darker happening in Juliette's... we just don't get to see it yet.
The supporting cast is full of strong performances, particularly from Powers Boothe as Rayna's tycoon father; he's the J.R. of
Nashville
except more forward. Newcomer Clare Bowen is also a standout in the ensemble as a waitress/songwriter looking for her voice. The best supporting performance, however, is from the music. A show like
Nashville
wouldn't survive without strong music in its catalogue, and the show has it down. The original songs are produced by Oscar winner T-Bone Burnett (
Crazy Heart
) and written by several up-and-comers, including John Paul White of the Grammy winning duo The Civil Wars. The pilot's final torch song, "If I Didn't Know Better," is a thing of beauty as performed by Bowen and Sam Palladio (
Episodes
). Accompanied by images of Rayna's acquiescence and Juliette's seduction, it's a clear view of where these characters have been and where they're going. It's a great way to cap a very strong episode.
In addition to being well done,
Nashville
is just a really good time. It's got a bit of
Dallas
's Southern-fried melodrama coupled with the backstage rivalry of
Smash
. There's political intrigue, sexual seduction, broken hearts, domestic unrest, and good music. There's quite a bit of commentary about the state of the music industry and where actual talent will get you (Rayna is a true singer, Juliette is an auto-tuned puppoet of her label), not to mention the effects the current economy and technologies have had on artists. So whether you're looking strictly for an entertaining soap opera, or for something with a bit of an agenda, you're likely to find it in
Nashville
. It's well-rounded and well-done in just about every aspect.